Terryanne Daniel
CMA, CDA II, CSHB – Director of Synergy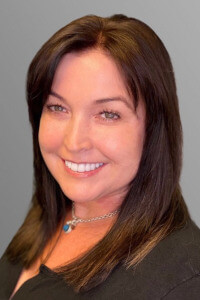 Terryanne Daniel graduated from Fanshawe College as a Medical Unit Coordinator in 1993. Her pursuit of knowledge compelled her to return to school for Dental Assisting. She graduated it with honours in 1995. In 1996, Terryanne successfully obtained her Level II, dental assisting at Western under the supervision of Dr. Mara.
In the first 5 years of her dental career, Terryanne worked at a dental office in Wortley Village while continuing her studies in Business and Marketing. From 2000 to 2007, Terryanne worked at Cosmo Dental in London as Director of Care. Her career in dentistry also includes working with Dr. Hebel a well respected Prosthodotist and Trainer in London.
Terryanne was an advocate for 'Kids Help Line' and participated in many fund raising events. She was also involved with the local newspapers and had articles published to improve dental knowledge in the community. Terryanne continues to volunteer at many daycares/public schools/camps in London to bring dental education and provide needed supplies. In 2014, Terryanne achieved her top bucket list item! A mission trip to Nicaragua to assist in a mandate to improve quality of education to a chosen school and community. This trip was more rewarding that she ever imagined and is excited to share her knowledge and experience of this of first of many similar trips planned. Just ask, and she will more than willingly share her journey.
In 2006-2007, Terryanne returned to her studies in Ottawa. Under the guidance of J.J. Brun and Dr. Robert Rohm, she achieved Certification as a Consultant in Human Behaviour. In 2008, Terryanne became a Certified Specialist in Human Behaviour. She was an active member a of First Class Toastmasters here in London and Past Area Grosvenor.
Terryanne currently holds Workshops and Team Development meetings with local businesses and business owners. Coaching, personal or within a designed group is another area she can assist you in reaching your goals.
Since May 2007, Terryanne has worked closely with Dr Octavian Tetelbaum and Dr Maria Tetelbaum in designing, building and directing the site we now call Synergy Centre.
Terryanne, is very proud to assist Dr Octavian Tetelbaum and Dr Maria Tetelbaum in their endeavors and vision for you, the patient at Synergy Centre.
Book Online
Synergy Dental offers the ability to request your dentist appointments online. Schedule an appointment now!
Book Online
Ask Questions
We will gladly answer any questions you may have.
Ask Questions