Invisalign, Not just a Braces Alternative
Over the past number of years, Invisalign has successfully integrated into modern dentistry, giving patients a 'clear alternative'; to straighten their teeth. What many patients may not realize, is that dentists are utilizing Invisalign to create optimal oral environments to replace missing teeth, prepare for cosmetic dental treatments, or improve bite-related TMJ concerns.
Tooth Replacement - Bridges, Implants, Dentures
When a tooth is lost and not replaced, the remaining teeth around, above or below the space lose some support and can drift, tip or lean into the gap. Over time, the remaining teeth can loosen, become crooked or over-erupt causing numerous concerns, making it more complex to simply replace the missing tooth. Invisalign can assist, by returning the drifted, tipped, or leaning teeth back to an optimal position, giving room to replace the missing tooth.
Cosmetic Solutions
Not all of us have been gifted with beautiful straight teeth. Veneers are often recommended to improve the appearance of your smile when the teeth are damaged, discoloured or naturally yellow/brown If you happen to be 'blessed' with teeth that are crowded or crooked, it can pose a challenge when considering veneers, as there is limited space to work with to create that symmetrical smile and achieve the best results.
Utilizing Invisalign to position the teeth for cosmetic care such as veneers or bonding, can, in some cases, permit the dentist to keep the preparation of your teeth down to a minimum. It prevents unnecessary dental treatment and preserves as much of your natural tooth structure as possible, in turn, enhancing your final results.
Improving Bite
When teeth are worn, chipped or cracked, it is a good indication that the contacts and forces happening within the bite are not harmonious with the muscles that surround and guide the jaws. Your teeth do not need to appear crowded to be in an ill-position. Invisalign can be the first step in correcting their position to reduce further damage.
Invisalign treatments can span from 2 months to 14 months. Cost may vary based on your needs. The treatment is comfortable and easy to use. Although Invisalign has become the main tool utilized in adult orthodontics, there are still certain cases where a fixed appliance is required to prepare the mouth for the Invisalign treatment.
Once meeting with Dr Octavian Tetelbaum, treatment options will be provided to you. Invisalign is one of the many options that assist us in helping you achieve the smile that you deserve. For more information, visit our website www.sclondon.ca or call us at 519-266-3646
---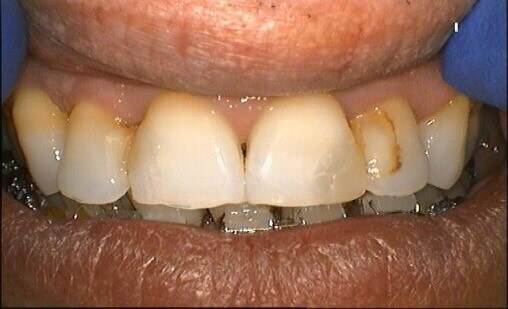 Case presentation: Patient presents with failed old restorations, chipped teeth and ceramic braces in an attempt to close the space of a missing canine tooth in the lower right area.
---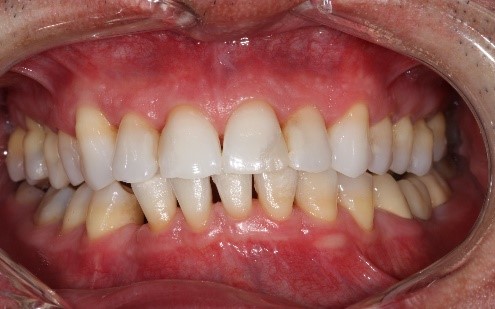 First, we removed all of the decay and faulty restoration in preparation for Invisalign. The goal of this Invisalign treatment, was to guide the teeth into the best position possible for the final cosmetic work, which in this case involved veneers on the upper teeth, as well as an implant-supported crown to replace the missing lower right canine tooth.
---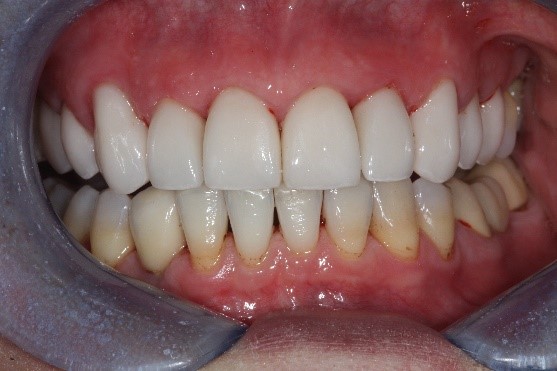 Patient presentation at his regular hygiene appointment four years later showing great retention of the orthodontic result and integrity of the porcelain work.
Note: Individual results and treatment options vary with each patient. This case is meant as an example.
Book Online
Synergy Dental offers the ability to request your dentist appointments online. Schedule an appointment now!
Book Online
Ask Questions
We will gladly answer any questions you may have.
Ask Questions