Amanda Robinson
CDA II, RDH – Registered Dental Hygienist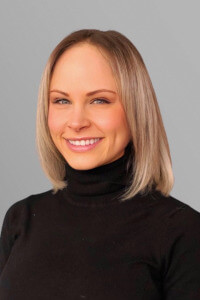 Amanda was born in London, Ontario and raised in the small town of Parkhill 40 minutes west of London. She attended North Middlesex Highschool in Parkhill. She graduated with top grades in 2008 and received the Chemistry Award, Co-op Education award for her outstanding placement at her family dental office, and was awarded the Queen Elizabeth's Award of Academic Excellence Scholarship towards her College education.
Amanda then chose to attend Niagara College in Welland to obtain her Certificate in Dental Assisting Levels 1 and 2. Her goal was to always become a Hygienist, but wanted to have a well rounded knowledge of the dental field and felt having Dental Assisting would be a huge asset in the future.
Amanda graduated on the Academic Honour Roll and was awarded with the faculties 'Dental Assistant Faculty Tribute Award' which was given to the student thats showed the best attributes of an exceptional dental assisant. She was also chosen by her fellow students and peers for the 'Outstanding Team Player Award'.
Amanda then went on to complete her Diploma in Dental Hygiene at St. Clair College in Windsor and graduated in 2011. She enjoyed the challenging course load and maintained the Academic Honour Roll throughout her years of study. One of her favourite parts of the program was helping to develop a clinic program at the Windsor Essix health unit to provide dental care to homeless and extremely low income individuals. After graduating with her Diploma, Amanda worked as a temporary fill in at a few different practices and then secured a part time position at a local small town dental office. She learnt a lot and enjoyed practicing in the fast paced setting but felt as though something was missing.
In June 2011, Amanda joined the Synergy Dental team and never looked back! Amanda loves that she has the time with her patients to properly care for them, and can also get to know them.
Amanda loves taking courses and expanding her knowledge. She has been side-by-side with Dr. Tetelbaum as he advances his education at LVI in Las Vegas in the study of Neuromuscular Dentistry. After the first LVI course Amanda attended she was amazed and found a new passion for the study. Once she returned from the courses at LVI, Amanda created a check sheet to be implemented at all of our examinations to assess our patients for signs and symptoms of bite discrepancy. She works with Dr. Tetelbaum on all of his major neuromuscular rehabilitation cases.
She is extremely passionate towards her work and excited that she gets to work with Dr. Tetelbaum helping patients every day.
Amanda is happily married to her high school sweet heart Mike. They welcomed a son Mason in May 2013 and a daughter Madison in May 2015. They live on their farm just outside Ailsa Craig. Amanda enjoys spending lots of time with her kids and two dogs, travelling, cooking and baking, sports and fitness.
Amanda looks forward to meeting new patients and helping them achieve their best smile!
Book Online
Synergy Dental offers the ability to request your dentist appointments online. Schedule an appointment now!
Book Online
Ask Questions
We will gladly answer any questions you may have.
Ask Questions